David Beckham is hosting the 'Last Supper'!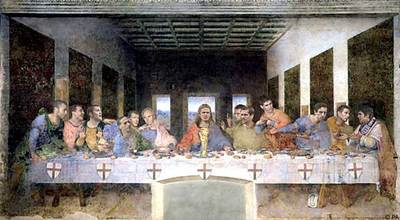 This few days, all the world seems caught a worldcup fever. Although I don't interest in football, here is a piece of news that definitely funny,from Yahoo sports.
London, June 5 (ANI): In a tongue in cheek version of Leonardo Da Vinci's "Last Supper", England's soccer captain, David Beckham has been transformed into Jesus Christ.
According to a report in the website scotsman.com, the reworking of Da Vinci's masterpiece by a team of Photoshop experts is titled Sven's Last Supper. It depicts Sven-Goran Eriksson, the England coach, as Mary Magdalene. Beckham is shown seated at the centre of the table.
The picture has been created to mark the launch of entertainment channel UKTV G2's World Cup coverage.
The designers, according to the report, were so inspired by the Dan Brown box- office blockbuster The Da Vinci Code, that they have riddled the iconic painting with hidden meanings and messages.
---